Air Management
Korea Circuit cares for nature and humanity.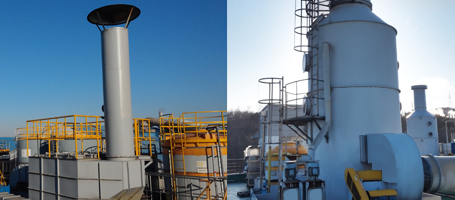 Introduced an environment management system with the goal of becoming an "environment friendly PCB manufacturing business" in 2001, and is currently applying it to the entire manufacturing processes.


Switching from End of Pipe management to Proactive Management



Through predictive management of the source of potential accidents, we have significantly reduced the density of air pollutants. Through consistent feedback, we have established good improvement plans and carried out improvement activities. We are committed to the preservation of both the earth environment and the living environment.
Discharge standards
2016
Discharge standards - Classification, Unit, Permitted, Discharge density, Permitted discharge density compared to the limit(%)

| Classification | Unit | Permitted | Discharge density | Permitted discharge density compared to the limit(%) |
| --- | --- | --- | --- | --- |
| Dust | ㎎/Sm³ | 50 | 8.7 | 17.4% |
| Sox | ppm | 400 | 2.62 | 0.6% |
| HCl | ppm | 5 | 0.66 | 13.2% |
| Cu | ㎎/Sm³ | 5 | 0.19 | 3.8% |
| Ni | ㎎/Sm³ | 2 | 0.02 | 1.0% |